TRAINING
An Introduction to our Training Program
We believe in the importance of both theory and practice.
Value Create's corporate training program began as a link to our management advisory service.
We have created our training based on listening to our customers' needs rather than simply having one type of training.
For example, we conduct training to respond to needs such as,
"We want our company's values, culture and strategies to pervade the entire company."
"We want to close the gap between managers and employees as well as between departments."
We offer training programs that stress the importance of both theory and practice.
We are good at nurturing the next generation of executives
We offer training for new graduates but we specialize in education and training for levels closer to executives.
That is because all of our training programs have been created while thinking from the perspective of 'corporate value'.
We will conduct training based on corporate ideas, culture and how a company ought to be.
Our training is interactive, rather than lecture-based
We can adjust our training based on customers' demands but we emphasize 'interactive' training.
The environment in which companies and individuals are located varies.
Of course theory is important but it is more important to use theory as a base and then be able to apply it to yourself and your company.
Our themes will be based on 'challenges' that you actually face
In order to get the feeling of satisfaction and understanding from participants, creating themes based on 'challenges' they currently face is the most effective method.
By having discussions based on these challenges and referring to best practices where appropriate, we will find solutions and then put them into practice.
We are at Keio Business School
Value Create's Masahiro Mitomi has been serving as a part-time lecturer at Keio University Graduate School of Business Administration since 2009, teaching 'Intensive Corporate Research'.
It is a class that was created with the intention of 'deeply analyzing a company across a wide range of fields' and to 'develop the ability to consider things from a top-level perspective'.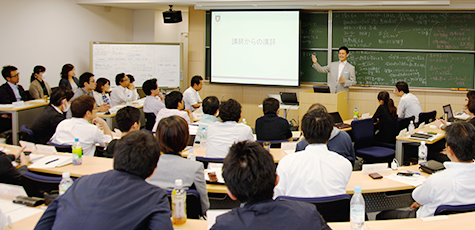 Main Corporate Training Categories
Board member-focused corporate value training
Next generation management-focused strategic construction training
Store manager-focused training
CFO nurturing training
New department manager training
New employee training
Recruiter training
Open seminar for students involved in job hunting
Corporate (internal) IR
Board member-focused corporate value training
New department manager training
Next generation management-focused strategic construction training
New employee training
Store manager-focused training
Recruiter training
CFO nurturing training
Corporate (internal) IR
Open seminar for students involved in job hunting
Main universities and business schools where lectures are held
Keio University Business School
Globis University Graduate School of Management
Aoyama Gakuin University
Saitama University
Digital Hollywood University
Tokyo University of Science Graduate School of Innovation Studies
Kwansei Gakuin University
Toyo University
Nihon Fukushi University
Bunkyo Gakuin University
Meiji University
Waseda University