Season's Greetings
2020.12.25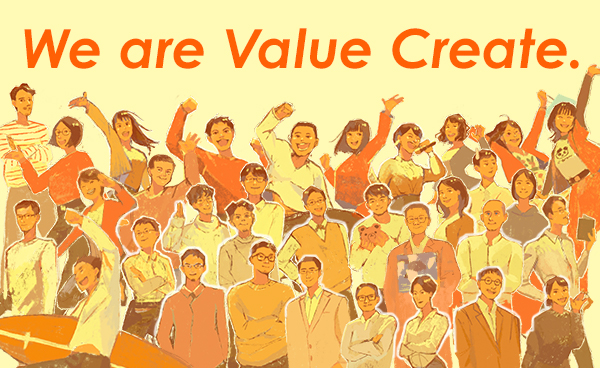 Dear All,
As time flies like an arrow, time has passed quickly,
and there are only a few days left of this year.
Thank you very much for your sincere support to us.
We would like to show you our greeting page for you
as well as a greeting for New Year holidays.
This year, it was produced by a new graduate partner of the production team who joined our company in April.
Due to the spread of the new coronavirus, it was not possible for everyone to get together, but by making full use of online, the distance between us and our friends around the world was overwhelmingly shortened.
She drew the first "group photo" this year with our peers not only in Tokyo but also in Europe.
She named this work "Office in Your Heart".
Please take a look from the following URL.
http://english.valuecreate.net/greeting/2020/
We will continue to be a company that contributes to the value creation of society together with everyone who supports us by pursuing "sense of oneself" and "Waku-Waku (excitement)" by all our partners.
In addition, we will be closed for the following period during the year-end and New Year holidays.
[New Year holidays]
From December 29, 2020 (Tue.) to January 3, 2021 (Sun.)
* After January 4th (Mon.), we will be open from 9:30 as usual.
We look forward to your continued support of Value Create next year.
Please have a rich New Year holidays.
December 25, 2020
All partners of Value Create Inc.